Full Name: Dmitri Dmitriyevich Shostakovich
Pronunciation: Shoss-ta-kovich
Era: Modern
Years active: 1906-1975
Number of compositions: 147
Number of symphonies: 15
Number of concertos: 6
Number of string quartets: 15
Style:
Good old Shosty is my favorite composer. He was constantly under threat from Stalin and his cronies, and his music reflected this, often hiding a deeper meaning. Famously he frequently used a melody to spell out his name.
His music is often murky and brooding, with melodies that can take a while to completely grasp. In stark contrast to this his music will often ramp up into a manic, aggressive, whirlwind. It is often bitingly sarcastic. A lot of his pieces for orchestra are "big" sounding, using a large number of instruments at once, but his later stuff has a much sparser, cleaner sound.
Because he is a reasonably modern composer (he died in the 1970′s) his music has "interesting" harmonies and melodies – that is, they don't sound like the archetypal melodies of Beethoven or Mozart, there is much more dissonance. However, he doesn't do anything crazy like Schoenberg and his boys. It's definitely more traditional sounding.
Cello Concerto No. 1, 1st movement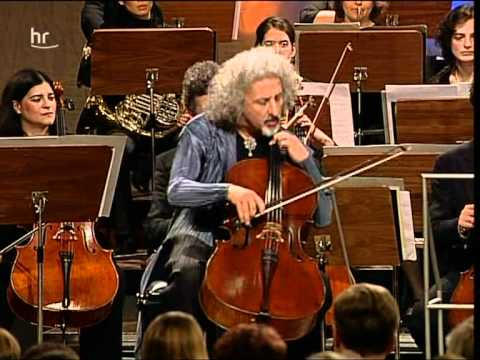 A witty, jaunty melody from the beginning of the first cello concerto. This was written just a bit after Stalin's death, so Shostakovich was probably feeling (uncharacteristically) cheerful and optimistic about life.

Buy a CD of this on Amazon

Download an MP3 of this from Amazon
Chamber Symphony
In contrast, here is a piece which many consider a musical suicide note. He wrote this just after he had been forced to join the communist party, and had visited the ruins of Dresden, devastated by the Allies in World War II. The opening notes (which the whole movement is built around) are the Shostakovich motif DSCH.

Buy a CD of this from Amazon

Download an MP3 of this form Amazon
Symphony no. 10, 2nd Movement

This is another more upbeat movement, but this time it's in an angry, militaristic style (a style which is pretty common throughout his works).

Buy a CD of this from Amazon

Download an MP3 of this from Amazon